Amelia Fieldmouse
Background Info
movies
tv shows
Video games
Animators
Voice actor/actress
Personal info
Full name
Mrs. Amelia Fieldmouse
Mrs. Felicity Fieldmouse
Personality
Sweet, motherly, supportive
physical Appearance
tall, slender female mouse
Species
mouse
family
Mickey Mouse (brother)
Morty and Ferdie (sons)
Pets
friends
Enemies
Quote
[Source]
Amelia Fieldmouse, currently known as Felicity Fieldmouse or simply Mrs. Fieldmouse, is an anthropomorphic mouse who is Mickey Mouse's older sister and Morty and Ferdie's mother.
As of yet, she has not made any appearances in animation.
She first appeared in Morty and Ferdie's 1932 debut strip, Mickey's Nephews, as a mouse lady arriving at Mickey's house and drops the twins off, asking if Mickey would not mind caring for them while she's running an errand. In the Dutch comic strips, Mickey referred to her as "Amalia" (Dutch spelling for the name "Amelia"), while in the English version she is referred to as "Mrs. Fieldmouse". The original strips do not make clear that Amelia is Mickey's sister; as drawn, she looks more like an elderly relative. However, the relationship was clarified when she in more recent comics. The fact that Mickey is Morty and Ferdie's maternal uncle was also made clear by the fact that, in the 1935 Mickey Mouse one-pager He's a Knockout, Mickey states that he does not have a brother.
At Egmont Publishing, Amelia was given her current name Felicity Fieldmouse. As a side note, Egmont also named Felicity's husband—the twins' father—Frank, though he has yet to be specifically named or depicted in a published comic. Egmont's modern version of Amelia has slimmed down and is designed to look closer to Mickey in age, while remaining significantly taller than him.
Characters
Main: Daisy Duck, Donald Duck, Goofy, Mickey Mouse, Minnie Mouse Pluto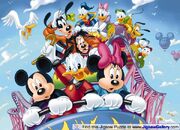 Secondary: April, May and June, Chip 'n' Dale, Clarabelle Cow, Grandma Duck, Horace Horsecollar, Huey Dewey and Louie, Ludwig Von Drake, Max Goof, Millie and Melody, Morty and Ferdie, Scrooge McDuck
Other: Amelia Fieldmouse, Aracuan Bird, Arizona Goof, Baby Shelby, Mrs. Beakley, Beret Girl, Blackjack, Bobby Zimmeruski, Bubba the Cave Duck, Chi-Chi, Clara Cluck, Clarice, Dinah the Dachshund, Darkwing Duck, Dickie Duck, Dim-Witty Duck, Donna Duck, Doofus Drake, Duckworth, Ellsworth, Fenton Crackshell, Fethry Duck, Figaro, Gilbert Goof, Gladstone Gander, Glittering Goldie, Gloria, Mrs. Goof, Grandma Goofy, Gosalyn Mallard, Gram-Gram Peg-Leg, Gubbles, Gus Goose, Gyro Gearloose, Humphrey the Bear, J. Audubon Woodlore, Launchpad McQuack, Mona, Newton Gearloose, Chief O'Hara, Oswald the Lucky Rabbit, Baby Panda, Peg Pete, Peter Pig, Mr. Pettibone, Pistol Pete, P.J., The Quin-Puplets, Roxanne, Salty the Seal, Stacey, Susie Beagleman, Sylvia Marpole, Toodles, Mrs. Turtle, Webby Vanderquack, Witch Hazel
| | |
| --- | --- |
| | This page uses Disney Wiki content. Like with Mickey and Friends Wiki, the text of the Disney Wiki is available under the GNU Free Documentation License. The list of authors can be seen in the page revision history (view authors). |
Ad blocker interference detected!
Wikia is a free-to-use site that makes money from advertising. We have a modified experience for viewers using ad blockers

Wikia is not accessible if you've made further modifications. Remove the custom ad blocker rule(s) and the page will load as expected.