Bubba the Cave Duck (simply referred to as Bubba Duck in DuckTales: Remastered) is a young cave duck in DuckTales.
Role in the series
Edit
Bubba was introduced in the five-part episode "Time is Money". Encountered during an accidental trip into Duckburg's prehistoric past, Bubba latched onto Scrooge McDuck after Scrooge accidentally saved him from a ferocious Tyrannosaurus Rex. Bubba and his pet Triceratops Tootsie stowed away on Gyro Gearloose's time-ship, the Millennium Shortcut, which ran on a form of unstable energy called "bombastium," returning with Scrooge and crew to the present day.
He currently lives in a version of his old cave on the grounds of McDuck Manor and goes to school with Huey, Dewey and Louie and Webby.
Bubba is similar to Cave Pup from 101 Dalmatians: The Series, as both are prehistoric characters who find themselves in a modern setting, and both have similar sounding voices.
Characters
Main: Daisy Duck, Donald Duck, Goofy, Mickey Mouse, Minnie Mouse Pluto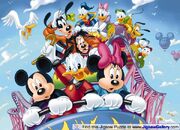 Secondary: April, May and June, Chip 'n' Dale, Clarabelle Cow, Grandma Duck, Horace Horsecollar, Huey Dewey and Louie, Ludwig Von Drake, Max Goof, Millie and Melody, Morty and Ferdie, Scrooge McDuck
Other: Amelia Fieldmouse, Aracuan Bird, Arizona Goof, Baby Shelby, Mrs. Beakley, Beret Girl, Blackjack, Bobby Zimmeruski, Bubba the Cave Duck, Chi-Chi, Clara Cluck, Clarice, Dinah the Dachshund, Darkwing Duck, Dickie Duck, Dim-Witty Duck, Donna Duck, Doofus Drake, Duckworth, Ellsworth, Fenton Crackshell, Fethry Duck, Figaro, Gilbert Goof, Gladstone Gander, Glittering Goldie, Gloria, Mrs. Goof, Grandma Goofy, Gosalyn Mallard, Gram-Gram Peg-Leg, Gubbles, Gus Goose, Gyro Gearloose, Humphrey the Bear, J. Audubon Woodlore, Launchpad McQuack, Mona, Newton Gearloose, Chief O'Hara, Oswald the Lucky Rabbit, Baby Panda, Peg Pete, Peter Pig, Mr. Pettibone, Pistol Pete, P.J., The Quin-Puplets, Roxanne, Salty the Seal, Stacey, Susie Beagleman, Sylvia Marpole, Toodles, Mrs. Turtle, Webby Vanderquack, Witch Hazel
Ad blocker interference detected!
Wikia is a free-to-use site that makes money from advertising. We have a modified experience for viewers using ad blockers

Wikia is not accessible if you've made further modifications. Remove the custom ad blocker rule(s) and the page will load as expected.