Chief Seamus O'Hara is the chief of police in the city of Mouseton.
He plays a supportive role in Mickey Mouse's comic-book mysteries, often relying on Mickey's help to catch characters such as Pete, Phantom Blot and the like. Known fellow officers include his friend, Detective Casey. O'Hara also appeared on Mickey Mouse Works and Disney's House of Mouse.
The character was conceived by Floyd Gottfredson (and Merrill De Maris) for Disney as a stereotypical Irish cop. He first appeared in the newspaper strips in May 1939, in the serial "Mickey Mouse Outwits the Phantom Blot". In the Brazilian version of the comics, he is known as "Coronel Cintra", in the Danish versions as "Politimester Striks", in the Finnish translation he is known as "Poliisimestari Sisu" (possibly named after the Finnish concept of sisu), in the French versions as "Commissaire Finot", in the German versions as "Kommissar Albert Hunter" (Kommissar means commissioner in German), in the Italian version as "Commissario Adamo Basettoni" and in the Swedish versions as "Kommissarie Karlsson".
In Italian stories O'Hara has a wife called Petulia.
See Also
Edit
Characters
Main: Daisy Duck, Donald Duck, Goofy, Mickey Mouse, Minnie Mouse Pluto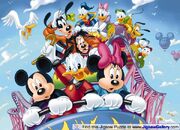 Secondary: April, May and June, Chip 'n' Dale, Clarabelle Cow, Grandma Duck, Horace Horsecollar, Huey Dewey and Louie, Ludwig Von Drake, Max Goof, Millie and Melody, Morty and Ferdie, Scrooge McDuck
Other: Amelia Fieldmouse, Aracuan Bird, Arizona Goof, Baby Shelby, Mrs. Beakley, Beret Girl, Blackjack, Bobby Zimuruski, Bubba the Cave Duck, Chi-Chi, Clara Cluck, Clarice, Cuckoo-Loca, Dinah the Dachshund, Darkwing Duck, Dickie Duck, Dim-Witty Duck, Donna Duck, Doofus Drake, Duckworth, Eega Beeva, Ellsworth, Fenton Crackshell, Fethry Duck, Figaro, Gilbert Goof, Gladstone Gander, Glittering Goldie, Gloria, Mrs. Goof, Grandma Goofy, Gosalyn Mallard, Gram-Gram Peg-Leg, Gubbles, Gus Goose, Gyro Gearloose, Humphrey the Bear, J. Audubon Woodlore, José Carioca, Launchpad McQuack, Lena, Mona, Newton Gearloose, Chief O'Hara, Oswald the Lucky Rabbit, Panchito Pistoles, Baby Panda, Peg Pete, Peter Pig, Mr. Pettibone, Pistol Pete, P.J., Pluto's Angel, Pluto's Kid Brother, Powerline, The Quin-Puplets, Roxanne, Salty the Seal, Stacey, Susie Beagleman, Sylvia Marpole, Toodles, Mrs. Turtle, Webby Vanderquack, Wilbur, Witch Hazel