Clara Cluck is a friend of Minnie Mouse, Daisy Duck and Clarabelle Cow
She debuted in 1934 in the Mickey Mouse cartoon Orphan's Benefit. Since then she has appeared as a semi regular character in the Mickey Mouse cartoons. In the Donald Duck comic books she is shown as Daisy Duck's best friend. Clara has been a member of Mickey's original farmyard gang since the beginning of his career, although she is seen less often thanClarabelle Cow and Horace Horsecollar
As with most Disney characters, she was given small cameos in "Mickey's Christmas Carol (1983) and Who Framed Roger Rabbit (1988). She had some appearances in Mickey Mouse Works (1999), where she is presented as Daisy Duck's neighbor. She appeared occasionally in House of Mouse (2001). In one episode of that series, "Double Date Don", she fell in love with Donald Duck and aggressively pursued him by puckering her lips in front of him, forcing him to dance with her, wearing dresses and posing provocatively to lure him in. At one point she even grabs Donald and forcibly, yet passionately, kisses him full on the lips. She almost tricked Donald into marrying her but Daisy stopped the wedding in time. In Disney comics on the other hand, she has been shown to date Gus Goose on very few occasions. She also had appeared to put Minnie Mouse in jail for driving her car through Daisy's house to deliver a famous apple pie of hers.
Clara made a cameo appearance in the Timeless River world of Kingdom Hearts II with many other classic Disney characters like Clarabelle Cow and Horace Horsecollar as one of the world's citizens. She also makes an appearance in the Mickey's Boo to You Parade and for rare meet and greets at  Walt Disney World's Magic Kingdom.
Characters
Main: Daisy Duck, Donald Duck, Goofy, Mickey Mouse, Minnie Mouse Pluto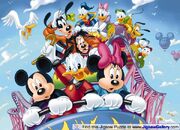 Secondary: April, May and June, Chip 'n' Dale, Clarabelle Cow, Grandma Duck, Horace Horsecollar, Huey Dewey and Louie, Ludwig Von Drake, Max Goof, Millie and Melody, Morty and Ferdie, Scrooge McDuck
Other: Amelia Fieldmouse, Aracuan Bird, Arizona Goof, Baby Shelby, Mrs. Beakley, Beret Girl, Blackjack, Bobby Zimmeruski, Bubba the Cave Duck, Chi-Chi, Clara Cluck, Clarice, Dinah the Dachshund, Darkwing Duck, Dickie Duck, Dim-Witty Duck, Donna Duck, Doofus Drake, Duckworth, Ellsworth, Fenton Crackshell, Fethry Duck, Figaro, Gilbert Goof, Gladstone Gander, Glittering Goldie, Gloria, Mrs. Goof, Grandma Goofy, Gosalyn Mallard, Gram-Gram Peg-Leg, Gubbles, Gus Goose, Gyro Gearloose, Humphrey the Bear, J. Audubon Woodlore, Launchpad McQuack, Mona, Newton Gearloose, Chief O'Hara, Oswald the Lucky Rabbit, Baby Panda, Peg Pete, Peter Pig, Mr. Pettibone, Pistol Pete, P.J., The Quin-Puplets, Roxanne, Salty the Seal, Stacey, Susie Beagleman, Sylvia Marpole, Toodles, Mrs. Turtle, Webby Vanderquack, Witch Hazel
Ad blocker interference detected!
Wikia is a free-to-use site that makes money from advertising. We have a modified experience for viewers using ad blockers

Wikia is not accessible if you've made further modifications. Remove the custom ad blocker rule(s) and the page will load as expected.