Some iconic quotes of Daisy Duck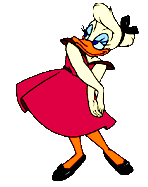 "It must be destiny. Good thing destiny doesn't control my love life."
"Boys! Dinner!"
"Isn't this special?"
"I'm sure the cookies were delicious, Uncle Scrooge."
"Merry Christmas, ya big old grump."
"Once again, he just doesn't have the Christmas spirit."
TV Series
Edit
"Did she gain some weight?"
"Better than a hat rack..."
"Why a donkey?"
"First you make me ride in the back, then you make me drive, now this!"
"You want to be alone?! No problem."
"Oh dear my bow's droopy."
"Donald temper!"
"Bicker! Bicker!"
"Quack! Quack!"
Ad blocker interference detected!
Wikia is a free-to-use site that makes money from advertising. We have a modified experience for viewers using ad blockers

Wikia is not accessible if you've made further modifications. Remove the custom ad blocker rule(s) and the page will load as expected.