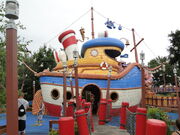 Donald's Boat (also known as The Miss Daisy) is a fishing boat owned by Donald Duck. Originally designed for Mickey's Toontown, it eventually found its way into various Disney media. It is named after Daisy Duck.
About the attraction
Edit
All aboard
Edit
Check out Donald's sailor suit hanging out to dry on the laundry line and pull the ship's whistle to trigger water spouts on deck. Below decks, you can see Donald's favorite photos and seaworthy rain gear. With a rope ladder and the spiral staircase, you'll never want to be a landlubber ever again!
Also See
Edit