Donna
Background Info
movies
tv shows
Video games
Animators
Voice actor/actress
Clarence Nash
Personal info
Full name
Personality
romantic, temperamental
physical Appearance
Slender duck, beautiful, white feathers, red Mexican headdress, white Spanish dancing dress that blends with her feathers color
Species
duck
family
Pets
friends
Donald Duck (ex-boyfreind)
Enemies
Daisy Duck
Quote
[Source]
Donna DuckD is the first love interest of Donald Duck. She was later replaced by Daisy Duck.
Background
Edit
According to some sources, Daisy was introduced in 1937 as Donna Duck, yet there is conflicting evidence as to whether Donna was an early version of Daisy or a separate character entirely. However, the fact that The Walt Disney Company released a collector's pin (See #703 on Pinpics.com) in 1999 which states, "Daisy Duck debuts as Donna Duck 1937," solidifies the fact that Daisy Duck and Donna Duck were, in fact, one and the same.
Donna made her sole animated appearance in the short film Don Donald (1937), directed by Ben Sharpsteen. It was the first installment of the Donald Duck film series and was also the first time Donald was shown with a love interest. In the story, Donald travels to Mexico to court a duck who is largely a female version of himself. She is portrayed with the same feisty temperament and impatience and was even voiced by Donald's voice actor Clarence Nash. At the end of the story she spitefully abandons Donald in the desert after his car breaks down.
Some sources consider Don Donald, Daisy's debut. These include The Encyclopedia of Animated Disney Shorts, and the Big Cartoon DataBase. In addition to this, Don Donald is included on the Disney-produced DVD "Best Pals: Donald and Daisy." Donna's identification as an early Daisy is aided by the fact that other Disney characters, such as Goofy, were also introduced under different names (Dippy Dawg), appearances, and mannerisms. "Donna" in Italian is also the equivalent of "Don," a title Donald takes in the film's title.
However, in 1951 the character of Donna was retconned in a newspaper comic strip where she appeared as a separate character from Daisy and as an unwitting rival for Donald's affections
Appearances
Edit
Characters
Main: Daisy Duck, Donald Duck, Goofy, Mickey Mouse, Minnie Mouse Pluto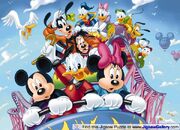 Secondary: April, May and June, Chip 'n' Dale, Clarabelle Cow, Grandma Duck, Horace Horsecollar, Huey Dewey and Louie, Ludwig Von Drake, Max Goof, Millie and Melody, Morty and Ferdie, Scrooge McDuck
Other: Amelia Fieldmouse, Aracuan Bird, Arizona Goof, Baby Shelby, Mrs. Beakley, Beret Girl, Blackjack, Bobby Zimuruski, Bubba the Cave Duck, Chi-Chi, Clara Cluck, Clarice, Cuckoo-Loca, Dinah the Dachshund, Darkwing Duck, Dickie Duck, Dim-Witty Duck, Donna Duck, Doofus Drake, Duckworth, Eega Beeva, Ellsworth, Fenton Crackshell, Fethry Duck, Figaro, Gilbert Goof, Gladstone Gander, Glittering Goldie, Gloria, Mrs. Goof, Grandma Goofy, Gosalyn Mallard, Gram-Gram Peg-Leg, Gubbles, Gus Goose, Gyro Gearloose, Humphrey the Bear, J. Audubon Woodlore, José Carioca, Launchpad McQuack, Lena, Mona, Newton Gearloose, Chief O'Hara, Oswald the Lucky Rabbit, Panchito Pistoles, Baby Panda, Peg Pete, Peter Pig, Mr. Pettibone, Pistol Pete, P.J., Pluto's Angel, Pluto's Kid Brother, Powerline, The Quin-Puplets, Roxanne, Salty the Seal, Stacey, Susie Beagleman, Sylvia Marpole, Toodles, Mrs. Turtle, Webby Vanderquack, Wilbur, Witch Hazel
| | |
| --- | --- |
| | This page uses Disney Wiki content. Like with Mickey and Friends Wiki, the text of the Disney Wiki is available under the GNU Free Documentation License. The list of authors can be seen in the page revision history (view authors). |