Just a few of the quotes by Goofy Goof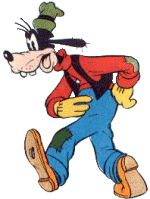 "What do ya mean, beans?"
"Here he comes with the key!"
"This isn't just my vacation. It's a vacation with me and my best buddy."
"A waterfall. A WATERFALL?!?"
"Goodbye, house. Goodbye, mailbox. Goodbye, pile of broken wood."
"More 'Hi Dad' soup, please..."'
"All right, then. Guess I'll just have to go... all alone, that's all. Just sit in the boat... all alone. And talk to myself. All alone."
"How many cups of sugar does it take to get to the moon...?"
"It looks like we're going to have a white Christmas after all!"
"Well, I guess ol' Santy's been at it so long, he figured out all the shortcuts."
"Of course there's a Santy. Otherwise, we'd have a lot of jobless elves running around."
TV Series
Edit
"Gotta go to the all night market before it closes."
"If there's one thing I don't like about falling off a roof, it's the pain involved."
"What're ya, clownin' me?!"
"Boy, some people ain't go no class!"
Video Games
Edit
Epic Mickey
Edit
"I was doin' some work in Tomorrow City when The Mad Doctor went and betrayed all of Oswald's friends. He had some friends of his own tear me to pieces! And now my parts are scattered all over Tomorrow City."
"Now, I can get back to work, now. And boy, could this place use some cleanin'."
Kingdom Hearts
Edit
"We're outsiders, so wouldn't that be 'muddling'?"
"And for today's weather: expect showers. Heavy showers!"
"Ansem?"
Ad blocker interference detected!
Wikia is a free-to-use site that makes money from advertising. We have a modified experience for viewers using ad blockers

Wikia is not accessible if you've made further modifications. Remove the custom ad blocker rule(s) and the page will load as expected.