Horace Horsecollar is an anthropomorphic cartoon horse. He is close friends with Mickey Mouse, and has been in several Disney shorts.
Characterized as a cheerful know-it-all, Horace helped Mickey on his sleuthing expeditions in the comics before Goofy assumed that role. Horace most commonly appears as a funny animal, although a common gag in his early appearances was his ability to change at will from being a regular horse to a more human-like character.
Horace first appeared as Mickey's plow horse in the cartoon "The Plow Boy" in 1929. He next appeared later that same year, in The Jazz Fool, and after that he became a regular member of the Disney supporting cast, along with Clarabelle Cow, Clara Cluck and others even more minor. In recent years, Horace has more commonly appeared in Mickey Mouse Works and Disney's House of Mouse
Personality
Edit
Despite having a big ego and a temper, Horace is really kind hearted and a good person. He enjoys outdoor activities and spending time with his friend Mickey.
Appearances
Edit
Notable Short Films
Edit
TV Series
Edit
Characters
Main: Daisy Duck, Donald Duck, Goofy, Mickey Mouse, Minnie Mouse Pluto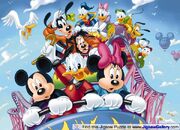 Secondary: April, May and June, Chip 'n' Dale, Clarabelle Cow, Grandma Duck, Horace Horsecollar, Huey Dewey and Louie, Ludwig Von Drake, Max Goof, Millie and Melody, Morty and Ferdie, Scrooge McDuck
Other: Amelia Fieldmouse, Aracuan Bird, Arizona Goof, Baby Shelby, Mrs. Beakley, Beret Girl, Blackjack, Bobby Zimmeruski, Bubba the Cave Duck, Chi-Chi, Clara Cluck, Clarice, Cuckoo-Loca, Dinah the Dachshund, Darkwing Duck, Dickie Duck, Dim-Witty Duck, Donna Duck, Doofus Drake, Duckworth, Ellsworth, Fenton Crackshell, Fethry Duck, Figaro, Gilbert Goof, Gladstone Gander, Glittering Goldie, Gloria, Mrs. Goof, Grandma Goofy, Gosalyn Mallard, Gram-Gram Peg-Leg, Gubbles, Gus Goose, Gyro Gearloose, Humphrey the Bear, J. Audubon Woodlore, Launchpad McQuack, Mona, Newton Gearloose, Chief O'Hara, Oswald the Lucky Rabbit, Baby Panda, Peg Pete, Peter Pig, Mr. Pettibone, Pistol Pete, P.J., The Quin-Puplets, Roxanne, Salty the Seal, Stacey, Susie Beagleman, Sylvia Marpole, Toodles, Mrs. Turtle, Webby Vanderquack, Witch Hazel
Ad blocker interference detected!
Wikia is a free-to-use site that makes money from advertising. We have a modified experience for viewers using ad blockers

Wikia is not accessible if you've made further modifications. Remove the custom ad blocker rule(s) and the page will load as expected.