Huey, Dewey & Louie
Background Info
movies
tv shows
Video games
Animators
Voice actor/actress
Clarence Nash (classic shorts),

The Mellowmen (Scrooge McDuck and Money), Russi Taylor (DuckTales, plus the direct-to-video films, video games, present), Jeannie Elias (Huey in Quack Pack), Pamela Adlon (Dewey in Quack Pack), Elizabeth Daily (Louie in Quack Pack) Tony Anselmo (Mickey MouseWorks and House of Mouse, Have a Laugh shorts), Danny Pudi as Huey Duck, Ben Schwartz as Dewey Duck, Bobby Moynihan as Louie Duck ( DuckTales reboot)

Personal info
Full name
Personality
mischievous, pranksters
physical Appearance
identical triplets ducks wearing a shirt a ball cap.
Species
duck
family
Donald Duck, Scrooge McDuck, Ludwig Von Drake, Della Duck
Pets
friends
Donald Duck, Daisy Duck, Scrooge McDuck, Mickey Mouse, Minnie Mouse,Ludwig Von Drake, Webby
Enemies
Quote
[Source]
Huey, Dewey and Louie are the triple nephews of Donald Duck, and grandnephews of Scrooge McDuck. While they do get into more than their share of mischievous they really are good boys, who love there family.
Huey, Dewey, and Louie Duck appear in animated cartoons and comic books published by the Walt Disney Company. They were created by Ted Osborne and Al Taliaferro, and first appeared in a newspaper comic strip on October 17, 1937. Their first animated appearance was in the theatrical short Donald's Nephews, released April 15, 1938.
Huey, Dewey, and Louie were the idea of Al Taliaferro, the artist for the Silly Symphonies comic strip, which featured Donald Duck. The Walt Disney Productions Story Dept. on February 5, 1937, sent Taliaferro a memo recognizing him as the source of the idea for the planned short, Donald's Nephews. The nephews debuted in Taliaferro's comic strip, which by this time had been renamed Donald Duck, on Sunday, October 17, 1937, beating the theatrical release of Donald's Nephews by almost six months. The names were devised by Disney gag man Dana Coty, who took them from Huey Long, Thomas Dewey, and Louis Schmitt, an animator at the Disney Studio in the 1930s and 1940s. Taliaferro's introduction of the nephews emulated the three nephews in the Happy Hooligan comic strip and was also influenced by Mickey Mouse's nephews, Morty and Ferdie Fieldmouse.
Personality
Edit
The three ducklings are noted for their identical appearances and personalities. A running joke involves the three sometimes even finishing each other's sentences. In the theatrical shorts, Huey, Dewey, and Louie often behave in a rambunctious and mischievous manner, and they sometimes commit retaliation or revenge on their uncle Donald Duck. Despite their mischievous behavior they are very good hearted and try to assist their uncles, Donald and Scrooge, with the tasks at hand.
Appearances
Edit
TV Series
Edit
Notable Short Films
Edit
Relationships
Edit
Main Article: Huey Dewey and Louie's Relationships
See Also
Edit
Characters
Main: Daisy Duck, Donald Duck, Goofy, Mickey Mouse, Minnie Mouse Pluto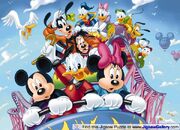 Secondary: April, May and June, Chip 'n' Dale, Clarabelle Cow, Grandma Duck, Horace Horsecollar, Huey Dewey and Louie, Ludwig Von Drake, Max Goof, Millie and Melody, Morty and Ferdie, Scrooge McDuck
Other: Amelia Fieldmouse, Aracuan Bird, Arizona Goof, Baby Shelby, Mrs. Beakley, Beret Girl, Blackjack, Bobby Zimmeruski, Bubba the Cave Duck, Chi-Chi, Clara Cluck, Clarice, Dinah the Dachshund, Darkwing Duck, Dickie Duck, Dim-Witty Duck, Donna Duck, Doofus Drake, Duckworth, Ellsworth, Fenton Crackshell, Fethry Duck, Figaro, Gilbert Goof, Gladstone Gander, Glittering Goldie, Gloria, Mrs. Goof, Grandma Goofy, Gosalyn Mallard, Gram-Gram Peg-Leg, Gubbles, Gus Goose, Gyro Gearloose, Humphrey the Bear, J. Audubon Woodlore, Launchpad McQuack, Mona, Newton Gearloose, Chief O'Hara, Oswald the Lucky Rabbit, Baby Panda, Peg Pete, Peter Pig, Mr. Pettibone, Pistol Pete, P.J., The Quin-Puplets, Roxanne, Salty the Seal, Stacey, Susie Beagleman, Sylvia Marpole, Toodles, Mrs. Turtle, Webby Vanderquack, Witch Hazel
Ad blocker interference detected!
Wikia is a free-to-use site that makes money from advertising. We have a modified experience for viewers using ad blockers

Wikia is not accessible if you've made further modifications. Remove the custom ad blocker rule(s) and the page will load as expected.