Humphrey
Background Info
movies
Mickey's Magical Christmas: Snowed in at the House of Mouse
tv shows
Mickey Mouse Club, House of Mouse, Minnie's Bow Toons
Video games
Donald Duck: Goin' Quackers
Animators
Voice actor/actress
James MacDonald (originally)

Frank Welker Jim Cummings

Personal info
Full name
Personality
comical, hungry, childish, hasty
physical Appearance
Species
bear
family
Pets
friends
Donald Duck (sometimes), J. Audobon Woodlore (sometimes)
Enemies
Goofy Goof, Donald Duck (sometimes), J. Audubon Woodlore (sometimes)
Quote
[Source]
Humphrey is a brown bear that lives in Brownstone National Park, which is run by Ranger J. Audobon Woodlore, and which is patronized occasionally by Donald Duck. Similar to Pluto and Figaro, Humphrey is one of the few Mickey and Friends characters that is not an anthropomorphic animal, and behaves like a "normal" animal.
Humphrey's first appearance was in the Goofy cartoon Hold That Pose, in which Goofy tried to take his picture. After that, he appeared in five classic Donald Duck cartoons: Rugged Bear, Grin and Bear It, Bearly Asleep, Rugged Bear, and Beezy Bear. Disney gave him his own series in 1956, but only two films resulted (Hooked Bear and In the Bag) before Disney discontinued making theatrical short subjects. When the shorts division closed, Humphrey was the last of only seven Disney characters who had been given a series of their own, starring in cartoons who opened with their own logo (the six other were Mickey Mouse, Donald Duck, Goofy, Pluto, Chip 'n' Dale (counting as one) and Figaro).
Characters
Main: Daisy Duck, Donald Duck, Goofy, Mickey Mouse, Minnie Mouse Pluto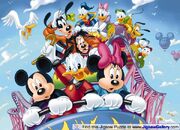 Secondary: April, May and June, Chip 'n' Dale, Clarabelle Cow, Grandma Duck, Horace Horsecollar, Huey Dewey and Louie, Ludwig Von Drake, Max Goof, Millie and Melody, Morty and Ferdie, Scrooge McDuck
Other: Amelia Fieldmouse, Aracuan Bird, Arizona Goof, Baby Shelby, Mrs. Beakley, Beret Girl, Blackjack, Bobby Zimmeruski, Bubba the Cave Duck, Chi-Chi, Clara Cluck, Clarice, Dinah the Dachshund, Darkwing Duck, Dickie Duck, Dim-Witty Duck, Donna Duck, Doofus Drake, Duckworth, Ellsworth, Fenton Crackshell, Fethry Duck, Figaro, Gilbert Goof, Gladstone Gander, Glittering Goldie, Gloria, Mrs. Goof, Grandma Goofy, Gosalyn Mallard, Gram-Gram Peg-Leg, Gubbles, Gus Goose, Gyro Gearloose, Humphrey the Bear, J. Audubon Woodlore, Launchpad McQuack, Mona, Newton Gearloose, Chief O'Hara, Oswald the Lucky Rabbit, Baby Panda, Peg Pete, Peter Pig, Mr. Pettibone, Pistol Pete, P.J., The Quin-Puplets, Roxanne, Salty the Seal, Stacey, Susie Beagleman, Sylvia Marpole, Toodles, Mrs. Turtle, Webby Vanderquack, Witch Hazel
Ad blocker interference detected!
Wikia is a free-to-use site that makes money from advertising. We have a modified experience for viewers using ad blockers

Wikia is not accessible if you've made further modifications. Remove the custom ad blocker rule(s) and the page will load as expected.