Some of the sayings of
Max Goof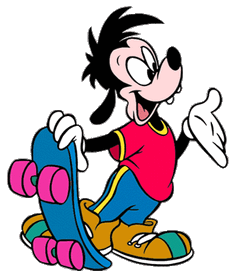 "Arrrgh! This is the *stupidest* vacation! You drag me from home, jam me into this dumb car, drive me a million miles away to see some stupid rat show!...Call me when the trip's over."
"That's very mystical and everything, Dad, but there's seriously this party I have to..."
"You can keep the moves, but I wouldn't mind having this R.V. You're so lucky."
[singing] "All in all, I'd rather have detention. All in all, I'd rather eat a toad. And the old man drives that's such a klutz that I'm about to hurl my guts directly upon the open road."
[singing] "Still, whatever mess I land in, who is always understandin'? Nobody else but you."
"Um... Hey Bob, um, who's driving?"
"Louie, Huey, Dewey? What are you talkin' about here, huh?"
"Don't worry, Dad! We'll pick up some donuts on the way!"
[imitating Santa] "Oh, you know. Camera adds 50 pounds."
"That means Santa would have to make, like, 800 visits a second, not including bathroom breaks."
"Did you know that there are over two billion children in the world?"
TV Series
Edit
"Dad, how long is 'not long'?"
"HOLD IT! Will everybody PLEASE stop fussing over us. I hate to complain, but I asked for us to be left alone and I've never seen so many people in my life. What's next? A marching band?"
Ad blocker interference detected!
Wikia is a free-to-use site that makes money from advertising. We have a modified experience for viewers using ad blockers

Wikia is not accessible if you've made further modifications. Remove the custom ad blocker rule(s) and the page will load as expected.