For the "House of Mouse" episode with a similar title see "Pete's House of Villains"
Mickey's House of Villains is a 2002 direct-to-video animated movie produced by The Walt Disney Company (Walt Disney Television Animation and Toon City Animation). It is a film adaptation of the Disney Channel animated television series Disney's House of Mouse, starring Mickey Mouse, Donald Duck, Minnie Mouse, Goofy, Daisy Duck and Disney Villains that have appeared in past Disney productions.
It is Halloween night at the House of Mouse, and a lot of villains are showing up. Jafar has a trick in store for the usual heroes of the House, but the villains have to wait until midnight for him to unleash it. After a series of cartoons, Jafar, along with his new henchmen Captain James Hook, Cruella de Vil, Ursula The Sea Witch and Hades, takes over the house with a musical number "It's Our House Now!" All the other villains soon join Jafar's plan. The heroes, princesses and other Disney characters are trapped in the kitchen while Mickey and several others are thrown out into the street. They witness the House's name being changed to the House of Villains.
Mickey Mouse, Donald Duck, Goofy Goof and Minnie Mouse try to take their House back, but Chernabog stops them from entering the building. Then, Mickey dresses in his sorcerer outfit from Fantasia (and Fantasia 2000) and challenges Jafar to a magical duel using fireballs. Just when Mickey's sorcerer hat is knocked off, Aladdin escapes from the kitchen, flying on the magic carpet and gives Daisy Duck the magical lamp. Daisy hands it to Mickey who uses the lamp to suck Jafar into it. The rest of the villains run away and the House of Mouse is once again restored.
Lonesome Ghosts (1937)
Donald Duck and the Gorilla (1944)
Trick or Treat (1952)
Mickey's Mechanical House
How to Haunt a House
Dance of the Goofys
Donald's Halloween Scare
Hansel and Gretel
MOVIES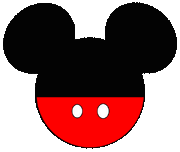 Fantasia, The Three Caballeros (film), Fun and Fancy Free, DuckTales the Movie: Treasure of the Lost Lamp, A Goofy Movie, An Extremely Goofy Movie, Mickey's Once Upon A Christmas, Fantasia 2000, Mickey's Twice Upon A Christmas, Mickey's Magical Christmas: Snowed in at the House of Mouse, Mickey's House of Villains, Mickey, Donald, Goofy: The Three Musketeers
House of Mouse
Series: House of Mouse
Episodes: The Stolen Cartoons, Big Bad Wolf Daddy, The Three Caballeros (episode), Goofy's Valentine Date, Timon and Pumbaa, Jiminy Cricket,Unplugged Club, Gone Goofy, Rent Day, Donald's Lamp Trade, Donald's Pumbaa Prank, Thanks to Minnie, Pluto Saves the Day, Daisy's Debut, Goofy for a Day, Clarabelle's Big Secret, The Mouse Who Came to Dinner, Max's New Car, Not So Goofy, Everybody Loves Mickey, Max's Embarrassing Date, Where's Minnie?, Super Goof (episode), King Larry Swings In, Ladies' Night, Dennis the Duck, Suddenly Hades, Pete's One-Man Show,House of Crime, Mickey and Minnie's Big Vacation, Donald and the Aracuan Bird, Goofy's Menu Magic, Music Day, House of Scrooge, Donald Wants to Fly, Dining Goofy, Chip 'n' Dale (episode), Humphrey in the House, Ask Von Drake, Salute to Sports, Pluto vs. Figaro, House of Magic, Mickey vs. Shelby, House of Turkey, Clarabelle's Christmas List, Pete's Christmas Caper, Snow Day, Pete's House of Villains, Halloween with Hades, House Ghosts, House of Genius, Mickey and the Culture Clash
Films: Mickey's Magical Christmas: Snowed in at the House of Mouse, Mickey's House of Villains
Ad blocker interference detected!
Wikia is a free-to-use site that makes money from advertising. We have a modified experience for viewers using ad blockers

Wikia is not accessible if you've made further modifications. Remove the custom ad blocker rule(s) and the page will load as expected.