Mickey's Magical Christmas: Snowed in at the House of Mouse is the first direct-to-video movies spin-off from Disney Junior and Disney Channel animated television series Disney's House of Mouse.
Mickey Mouse has just finished up another successful night at the House of Mouse on Christmas Eve and is wishing the guests a safe journey home. However, Goofy points out that a huge snowstorm has trapped them in the House. Mickey decides to have a free-of-charge Christmas party for the guests. Donald Duck, on the other hand, is being awfully Ebenezer Scrooge-like for a reason (not like his Uncle Scrooge) that is never given and would prefer not to take part in the festivities. However, Daisy, Mickey, Minnie, and Goofy get him to enjoy a cup of hot cocoa on stage next a fireplace set and comfy armchair. Minnie then finds some Christmas cartoons they haven't shown today and they decide to play them.
After the first cartoon, "Donald on Ice", Ludwig Von Drake presents "the science of Santa" to explain some of the impossibilities of his traveling over the world in one night (using the speed to have a future version of himself steal a cookie jar from his mother, who is surprisingly at the club as well). Donald is still not in the Christmas mood, so Mickey shows clips of him asking the audience members what they wished to have for Christmas. Seeing that Donald is still not willing to change his mood, Mickey shows two more cartoons, Pluto's Christmas Tree and "The Nutcracker", plus excerpts of Mickey decorating his house from "Mickey's Christmas Chaos". Unfortunately, even after seeing that, Donald still refuses to change his mood, earning frowns from everyone in the audience (except for Grumpy, who actually smiles at this).
Feeling defeated, Mickey heads to the roof, where he talks to Jiminy Cricket about how he tried so hard to make Donald feel the Christmas spirit. Jiminy then advises him to make a wish upon a star. Doing so, Mickey receives a star from the sky and returns to the stage, offering Donald the opportunity to put it on the tree as it lacks one. This simple act fills Donald with joy as he plays the star on the tree. The star then starts working its magic on the House, turning all the wreaths they have around the club gold and adding more golden wreaths throughout (even giving the Magic Mirror Spirit in the lobby a hat). They show their last cartoon for the night, Mickey's Christmas Carol, and afterward, everyone, even the villains, sings the closing song, "The Best Christmas of All". Mickey then tells the viewers "Merry Christmas" and Tinker Bell ends the film.
Donald On Ice (1999)
Pluto's Christmas Tree (1952)
Mickey's Christmas Carol (1983)
The Nutcracker (1999)
MOVIES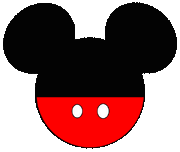 Fantasia, The Three Caballeros (film), Fun and Fancy Free, DuckTales the Movie: Treasure of the Lost Lamp, A Goofy Movie, An Extremely Goofy Movie, Mickey's Once Upon A Christmas, Fantasia 2000, Mickey's Twice Upon A Christmas, Mickey's Magical Christmas: Snowed in at the House of Mouse, Mickey's House of Villains, Mickey, Donald, Goofy: The Three Musketeers
House of Mouse
Series: House of Mouse
Episodes: The Stolen Cartoons, Big Bad Wolf Daddy, The Three Caballeros (episode), Goofy's Valentine Date, Timon and Pumbaa, Jiminy Cricket,Unplugged Club, Gone Goofy, Rent Day, Donald's Lamp Trade, Donald's Pumbaa Prank, Thanks to Minnie, Pluto Saves the Day, Daisy's Debut, Goofy for a Day, Clarabelle's Big Secret, The Mouse Who Came to Dinner, Max's New Car, Not So Goofy, Everybody Loves Mickey, Max's Embarrassing Date, Where's Minnie?, Super Goof (episode), King Larry Swings In, Ladies' Night, Dennis the Duck, Suddenly Hades, Pete's One-Man Show,House of Crime, Mickey and Minnie's Big Vacation, Donald and the Aracuan Bird, Goofy's Menu Magic, Music Day, House of Scrooge, Donald Wants to Fly, Dining Goofy, Chip 'n' Dale (episode), Humphrey in the House, Ask Von Drake, Salute to Sports, Pluto vs. Figaro, House of Magic, Mickey vs. Shelby, House of Turkey, Clarabelle's Christmas List, Pete's Christmas Caper, Snow Day, Pete's House of Villains, Halloween with Hades, House Ghosts, House of Genius, Mickey and the Culture Clash
Films: Mickey's Magical Christmas: Snowed in at the House of Mouse, Mickey's House of Villains
Ad blocker interference detected!
Wikia is a free-to-use site that makes money from advertising. We have a modified experience for viewers using ad blockers

Wikia is not accessible if you've made further modifications. Remove the custom ad blocker rule(s) and the page will load as expected.