Minnie Mouse
Background Info
movies
Mickey, Donald, Goofy: The Three Musketeers, Mickey's Once Upon A Christmas, Mickey's Twice Upon A Christmas
tv shows
The Mickey Mouse Club, Mickey Mouse Works, House of Mouse, Mickey Mouse Clubhouse, Minnie's Bow-Toons, Mickey Mousekersize, Mickey Mouse (TV Series)
Video games
Disney Infinity 3.0
Animators
Voice actor/actress
Walt Disney, Russi Taylor
Personal info
Full name
Minerva Mouse
Personality
sweet, caring, motherly, friendly, romantic, brave
physical Appearance
short, slender, female mouse
Species
mouse
family
Millie and Melody Mouse (nieces)
Pets
Figaro, Frankie, the Canary
friends
Mickey Mouse, Daisy Duck, Scrooge McDuck, Donald Duck, Goofy Goof, Walt Disney, Pluto, Clarabelle Cow
Enemies
Pete
Mortimer Mouse
The Phantom Blot
Various Disney villains
Quote
"Why,Hello!"
[Source]
Minnie Mouse is the leading lady of the Walt Disney Co, and a very iconic character. She's an anthropomorphic black mouse. She's the girlfriend of Mickey Mouse and best friend of Daisy Duck, and she is also good friends with Scrooge McDuck, Donald Duck, and Goofy Goof.
She was first drawn by Iwerks in 1928, as was Mickey Mouse. The comic strip story "The Gleam" (published January 19–May 2, 1942) by Merrill De Maris and Floyd Gottfredson first gave her full name as Minerva Mouse; this full name is seldom used.
The comic strip story "Mr. Slicker and the Egg Robbers" (published September 22–December 26, 1930) introduced her father Marcus Mouse and her unnamed mother, both farmers. The same story featured photographs of Minnie's uncle Milton Mouse with his family and her grandparents Marshal Mouse and Matilda Mouse. Her best known relatives, however, remain her uncle Mortimer Mouse and her twin nieces, Millie and Melody Mouse.
Personality
Edit
Originally Minnie was made to mainly serve as 'arm-candy' for Mickey Mouse. So she didn't have a great deal of personality. For years she played the damsel in distress that he saved. And even today she will still sometimes play that role.
Today Minnie's personality is very sweet and caring. She often plays the mother figure, to her nieces and other children such as Morty and Ferdie. She likes things very well organized. Despite being very a patient person, Minnie is often annoyed by Mickey's irresponsibility, Donald's temper, and Daisy's ego-centrism. She is often shown to shy, and a bit afraid to stand up for herself.
Relationships
Edit
Main article: Minnie's Relationships
Appearances
Edit
Television
Edit
Video Games
Edit
Notable Short Films
Edit
Comics and Books
Edit
The Senational Six
Characters: Mickey Mouse, Minnie Mouse, Donald Duck, Daisy Duck, Goofy, Pluto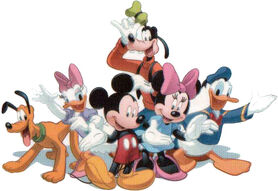 Alternative Identities: Sorcerer Mickey, The Duck Avenger, Super Daisy, Super Mickey, Wonder Minnie, Super-Power Pup, Super Goof, Dynamo Duck, Upsy-Daisy, James Goof
Characters
Main: Daisy Duck, Donald Duck, Goofy, Mickey Mouse, Minnie Mouse Pluto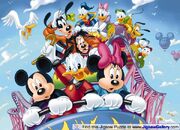 Secondary: April, May and June, Chip 'n' Dale, Clarabelle Cow, Grandma Duck, Horace Horsecollar, Huey Dewey and Louie, Ludwig Von Drake, Max Goof, Millie and Melody, Morty and Ferdie, Scrooge McDuck
Other: Amelia Fieldmouse, Aracuan Bird, Arizona Goof, Baby Shelby, Mrs. Beakley, Beret Girl, Blackjack, Bobby Zimmeruski, Bubba the Cave Duck, Chi-Chi, Clara Cluck, Clarice, Cuckoo-Loca, Dinah the Dachshund, Darkwing Duck, Dickie Duck, Dim-Witty Duck, Donna Duck, Doofus Drake, Duckworth, Ellsworth, Fenton Crackshell, Fethry Duck, Figaro, Gilbert Goof, Gladstone Gander, Glittering Goldie, Gloria, Mrs. Goof, Grandma Goofy, Gosalyn Mallard, Gram-Gram Peg-Leg, Gubbles, Gus Goose, Gyro Gearloose, Humphrey the Bear, J. Audubon Woodlore, Launchpad McQuack, Mona, Newton Gearloose, Chief O'Hara, Oswald the Lucky Rabbit, Baby Panda, Peg Pete, Peter Pig, Mr. Pettibone, Pistol Pete, P.J., The Quin-Puplets, Roxanne, Salty the Seal, Stacey, Susie Beagleman, Sylvia Marpole, Toodles, Mrs. Turtle, Webby Vanderquack, Witch Hazel
Ad blocker interference detected!
Wikia is a free-to-use site that makes money from advertising. We have a modified experience for viewers using ad blockers

Wikia is not accessible if you've made further modifications. Remove the custom ad blocker rule(s) and the page will load as expected.