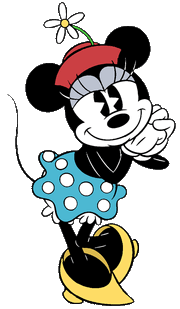 Iconic quotes of Minnie Mouse
"Our love is forbidden?"
"A forbidden love how romatic?"
"Drop her!"
"She is my lady in waiting!"
"Aw Mickey! When you play your harmonica, my heart sings!"
"Oh Mickey! I can't beleive you gave up what means the most to you for me."
"Oh Mickey, we were so worried. Uncle Scrooge even bought a snow plow company to help find him."
Mickey's Rival
Edit
Plane Crazy
Edit
"Who me?"
"Help! Help! Help!"
TV Series
Edit
"You spent the rent money on cheese again, didn't you?"
"How'd this happen again?"
"Hey Max where's your dad?"
"Well Daisy it's like I always say, there's no buisness like bow buisness."
"Maybe we should start off with a sway."
Ad blocker interference detected!
Wikia is a free-to-use site that makes money from advertising. We have a modified experience for viewers using ad blockers

Wikia is not accessible if you've made further modifications. Remove the custom ad blocker rule(s) and the page will load as expected.