Oswald Rabbit
Background Info
movies
tv shows
Video games
Epic Mickey
Animators
Voice actor/actress
Bill Nolan (1929),

Pinto Colvig (1930–1931), Mickey Rooney (1931), Bernice Hansen (1932–1938), Various (1932–1938), Walter Lantz (1935), June Foray (1943) Frank Welker (2010–present)

Personal info
Full name
Oswald the Lucky Rabbit
Personality
peppy, alert, saucy, adventurous, brave
physical Appearance
short black rabbit
Species
rabbit
family
Mickey Mouse (half-brother)
Pets
friends
Mickey Mouse
Enemies
Quote
[Source]
Oswald the Lucky Rabbit (also known as Oswald the Rabbit or Oswald Rabbit of just Oswald) is an anthropomorphic rabbit and animated cartoon character created by Ub Iwerks and Walt Disney for funny animal films distributed by Universal Pictures in the 1920s and 1930s, serving as the Disney studio's first animated character to feature in their own series.
26 animated Oswald features were produced at Walt Disney Animation Studios (the Walt Disney Studio at the time) before Walt Disney was eventually separated from the project and went on to create Mickey Mouse. Charles Mintz, and later Walter Lantz, took over production, creating new Oswald cartoons until 1943.
In 2003 Buena Vista Games pitched a concept for an Oswald-themed video game to Disney President and COO Bob Iger, who then became committed to bringing Oswald back to Disney. In 2006, nearly 80 years after Disney left Universal, The Walt Disney Company managed to acquire the intellectual property of Oswald and the catalog of Disney-produced Oswald films (with NBC/Universal effectively trading Oswald for the services of Al Michaels as play by play announcer on NBC Sunday Night Football).
Oswald returned to prominence in Disney's 2010 video game, Epic Mickey. The game's metafictional plot parallels Oswald's real-world history, dealing with the character's feelings of abandonment by Disney, and jealousy towards Mickey Mouse. He has since appeared in Disney theme parks and comic books, as well as two follow-up games, Epic Mickey 2: The Power of Two and Epic Mickey: Power of Illusion. More recently, Oswald made a cameo appearance in the 2013 animated short Get a Horse!. Oswald was the subject of the 2015 feature film Walt Before Mickey. Oswald also appears as a townsperson in Disney Infinity 2.0.
Characters
Main: Daisy Duck, Donald Duck, Goofy, Mickey Mouse, Minnie Mouse Pluto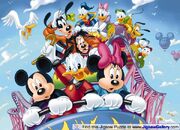 Secondary: April, May and June, Chip 'n' Dale, Clarabelle Cow, Grandma Duck, Horace Horsecollar, Huey Dewey and Louie, Ludwig Von Drake, Max Goof, Millie and Melody, Morty and Ferdie, Scrooge McDuck
Other: Amelia Fieldmouse, Aracuan Bird, Arizona Goof, Baby Shelby, Mrs. Beakley, Beret Girl, Blackjack, Bobby Zimmeruski, Bubba the Cave Duck, Chi-Chi, Clara Cluck, Clarice, Cuckoo-Loca, Dinah the Dachshund, Darkwing Duck, Dickie Duck, Dim-Witty Duck, Donna Duck, Doofus Drake, Duckworth, Ellsworth, Fenton Crackshell, Fethry Duck, Figaro, Gilbert Goof, Gladstone Gander, Glittering Goldie, Gloria, Mrs. Goof, Grandma Goofy, Gosalyn Mallard, Gram-Gram Peg-Leg, Gubbles, Gus Goose, Gyro Gearloose, Humphrey the Bear, J. Audubon Woodlore, Launchpad McQuack, Mona, Newton Gearloose, Chief O'Hara, Oswald the Lucky Rabbit, Baby Panda, Peg Pete, Peter Pig, Mr. Pettibone, Pistol Pete, P.J., The Quin-Puplets, Roxanne, Salty the Seal, Stacey, Susie Beagleman, Sylvia Marpole, Toodles, Mrs. Turtle, Webby Vanderquack, Witch Hazel
Ad blocker interference detected!
Wikia is a free-to-use site that makes money from advertising. We have a modified experience for viewers using ad blockers

Wikia is not accessible if you've made further modifications. Remove the custom ad blocker rule(s) and the page will load as expected.